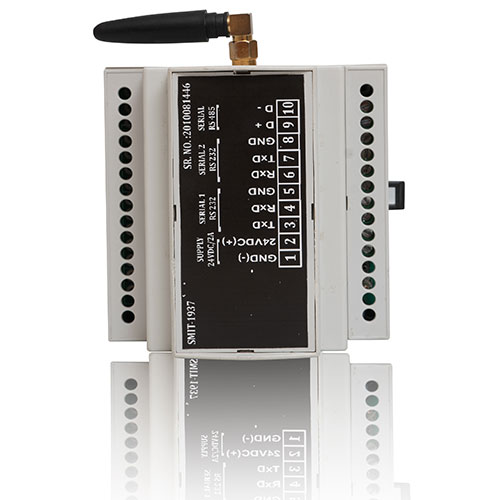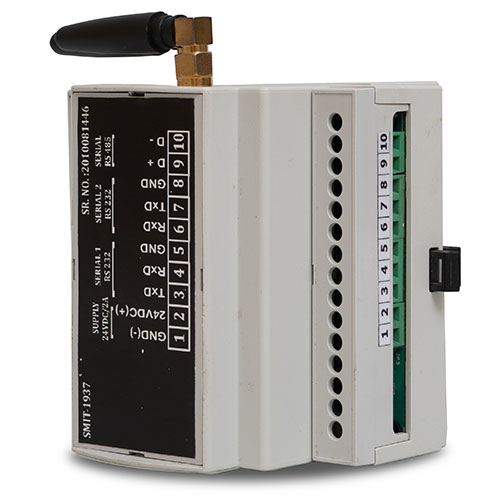 Samyak has come up with range of product suitable for IoT applications.
SMIT 1937i is a Microcontroller based product with GSM interface for connecting
field instruments with cloud.
Collects real time data from field instruments and pushes data to cloud server.
Data stored at cloud server can be viewed from remote places.
SMIT 1937i saves data in local non-volatile flash memory in case of network issue
Sends data to the server when network connection is restored to avoid data loss.
Supports MQTT Protocol
General Specifications:
Operating Supply : 24VDC / 2.5Amp
Analog Input: 4-20 mA (1 Channel),16-bit
Digital Inputs: 1 transistor
Serial Port #1 : RS-232 (for configuration)
Serial Port #2 : RS-485 / RS422
Ethernet TCP/IP Interface optional
Wi-Fi Interface optional
Internal Memory : 128 X 8 KB (Nonvolatile flash)
Enclosure: DIN rail mount, Plastic
Dimension: 88mm (W) x 62mm (H) x 90mm (Depth)
Features and Specifications of GSM Module:
Quad Band GSM Module, GPRS class 2/10.
Bands: GSM 850MHz, EGSM 900MHz, DCS 1800MHz, PCS 1900MHz
Coding schemes: CS-1, CS-2, CS-3, CS-4 Tx power: Class 4 (2W), Class 1 (1W)
Samyak GSM Gateway can be integrating with Third party (Existing) ERPs
Samyak also provides Cloud solution.
Features of Samyak cloud solution:
Hosted on Server
Easily configurable
Can connect to multiple Samyak GSM Gateway Devices
Attractive Dashboard with all required data
Live Data can be Monitored over internet
Reports can be generated Over the Internet anywhere
Trending and Different type of Graphs option available
Multiple Users can access the System as per their Roles and Rights
Easily Integrate with Customers ERPs and other Enterprise application
Samyak can Design Customized System as per requirement.
Samyak GSM Gateway Application Areas
Solar Panels / Grids
Power Plants or Grids
Diesel Generators
Process Automation
Weighing Automation
Analyzer Industries
Chemical / Pharma / OIL & Gas / Automobiles Industries
Different types of Field devices can be connected and transfer data on the cloud